Black Homeownership Summit – Houston Black Real Estate Association
November 5 @ 9:00 am

-

4:00 pm

CDT

|

Free
Black Homeownership Summit- NAREB- Houston Black Real Estate Association
Must Register to Attend "LIVE" in Houston Texas at TSU Campus
Houston Black Real Estate Association-Host
NAREB-Black Homeownership Summit
Join the collobrative Geniuse of The National Association of Real Estate Brokers, Texas Association of Real Estate Brokres and Industry Supporters and Professionals as they take you through the journey and effect on Black Homeownership for the past year.
Acknowledgement and Understaing of the challenge brings you at the table for solutions.
Get the History of SHIBA State of Housing In Black America and here solutions to move the needle of Black Homeownership, family wealth and community strength forward.
Are you in the Real Estate Industry, Realtor, Lending, service provider or homeowner, future homeowner this Summit is for you.
Register today and invite your sphere it's time to Rise and Shine!
TSU Student Life Center 2nd Floor
3347 Blodgett, Houston, TX 77004
(Limited Seating All guests must register)
Thanks to all our national and local sponsors:
FHL Bank San Francisco, BBVA, CADENCE BANK, NEW AMERICAN FUNDING, AMEGY BANK, CHASE, MR. COOPER
Questions call the office: Deirdra Taylor HBREA AdminOffice: 713-551-2092 / Email: admin@hbreahouston.com www.hbreahouston.org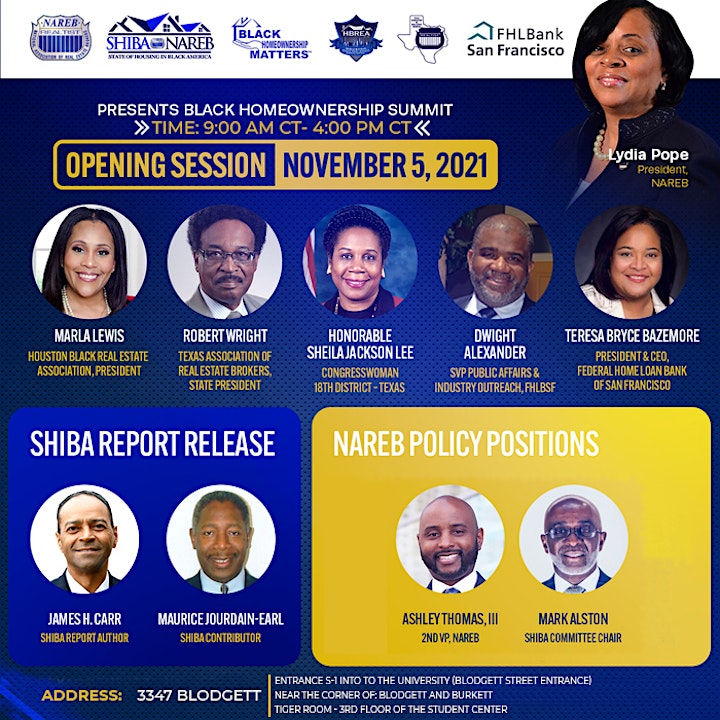 Share with Others, Choose Your Platform!